Swedish Flag
Hey guys so this is another one of my posts for the Blog challenge. I really want to travel to Sweden, and doing this challenge about travelling is a perfect opportunity for me to learn further about this country.
Firstly I need to know what I'm going to pack to Sweden. I've decided to go during the  summer time so this is what I'm packing.
Passport
Money
Suitcase
T-shirts
Jeans
Shorts
Shoes
Hat
Jackets
Socks
Pyjamas
Beanie
Leggings
Track- suit
 Dress
Toiletries
How will I Travel there?
I'll need to take a plane to go to Sweden and the airline I'll be taking is ' SAS '. This is what their aeroplane looks like: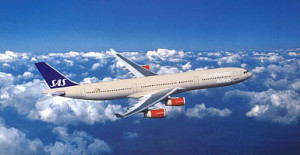 Now I've got to take some money to Sweden so I can buy some gifts for family and friends. Sweden's currency is called 'Swedish krona'. This is what their notes look like:
 Swedish money
Where Will I stay?
I'll stay at the Tree Hotel. It's $730 a night (converted in Australian Dollars).
 This is the Tree Hotel. Can you find the room?
Okay that's all for now… See you later!